Okay, so as everyone knows we took a trip to Disney World this summer. It was so much fun and now I am going to tell everyone all about our trip.
Day 1: July 5th
So we left on July 5th for our 2 1/2 day drive down to FL. Yes, I said drive, we chose to drive to try and save us some money. And I have to say, for the most part everyone did great on the drive. So we hit the road around 7am. I think my Dad was saying everyday we ended up being about17 mintues late, but with 3 little ones, I don't think that was so bad. The plan was to drive to Layfette then stop for the night on day one. Day two we were driving into Tallahassee and then finish day 3 driving into Orlando. During the course of the drive there were many conversations over whether we should go farther or what not, but in the end everything went as planned, even though we didn't get to Orlando as early as some people would have liked.
Anyway, we loaded everyone up and hit the road. We didn't stop for breakfast, but everyone had banana bread that I had made a day prior. It was very yummy if I do say so, well it might have been better if I had remembered to cut it or bring something to cut it with, but I made to the way it was. I know in our car we just broke pieces off and shared the loaf.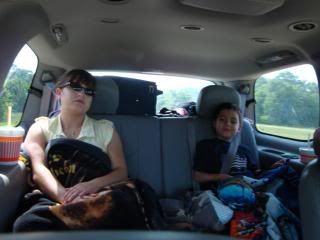 Patrick spent most of this day riding in Grandma and Grandpa's car so I don't have any pictures of him.
This is night one in the hotel...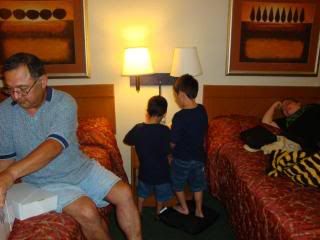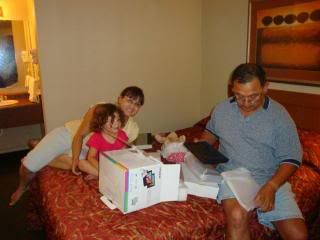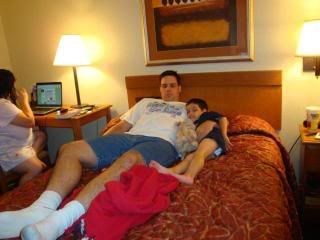 Day 2: July 6
So after a decent nights sleep we got up and headed for Florida. Notice I said decent, because who can really sleep knowing that in a day and a half we were going to be in the happiest place on Earth! Anyway, we were up and moving around 7am and hit the road about 8am. By this time everyone is starting to get anxious and hoping we can keep on schedule. This would be the weather day. We hit a pretty bad rainstorm this day that slowed our progress and made traffic a ngihtmare as well as lunch at McDonald's interesting and very wet. But we made it through fine. I will admit I was terrified at parts of the driving due to going over some very LONG bridges. I hate driving over bridges and these were extended bridges. Anyway, after the day of diving we arrived in Tallahasse around 5pm or so. Another discussion of whether or not we should keep going, but in the end we decide to call it a day and just stop.
We went for dinner at a place called Sonny's BBQ and it was quite yummy. We got 2 of there family meals and all at our fill without a problem and left food there. And then we headed back to our rooms for the night. This night, my sister, Christina, came over to play some cards with Robert and I. Now, we put the kids to bed right after getting back to the room, but someone had other ideas...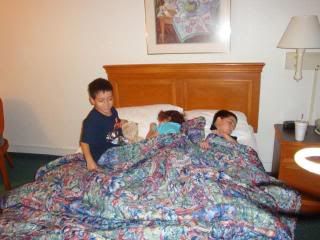 Yes, I know taking the pictures was just encouraging him, but it was cute considering he was still in a good mood.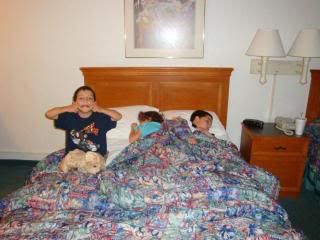 I'm not sure you can see it, but the clock says around 10:30pm.
So, around 11pm, we tell him everyone is going to bed and Christina goes back to her room and we all go to sleep.
Up next...Day 3: July 7, Arriving at Walt Disney World